Student Organizations
Looking to get involved in something new?
Joining a student organization is one of the most effective ways to find community and pursue your passions at UNI. By joining a student organization, you can:
form new friendships
meet others in your field of study
learn more about your career path
volunteer locally
find leadership opportunities
build your resume
make a difference during your time at UNI
Nearly 20 student organizations are associated with the College of Education, spanning the multiple interests of our students. And don't stop there! You're bound to find other organizations across campus — some which may relate to your major and others that let you explore, engage and grow in other directions. Make your mark and join in!
COE Student Organizations 
Art for El Salvador (AFES)
Are you passionate about charity and looking for a new opportunity to help others in need? If the answer is yes, this is the student org for you. Art for El Salvador uses art to support mission work and uplift impoverished communities in El Salvador. Every year in the springtime, AFES hosts a fundraising event called Art from the Heart and sells different forms of art to fund developmental projects for those suffering from extreme poverty in El Salvador.
Faculty Advisor: Denise Tallakson 
President: Kristin Kvetensky 
---
College of Education Student Ambassadors (CESA)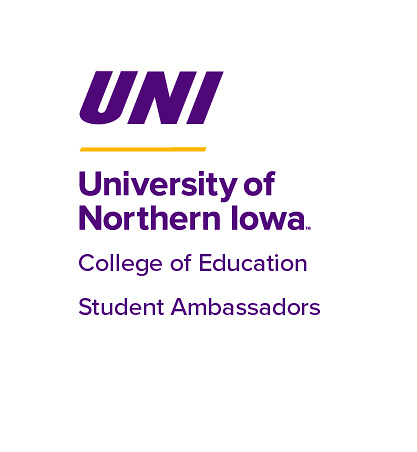 Become a student ambassador of the College of Education through CESA. CESA is an organization that aims to promote the College of Education to students interested in education, health and wellness. Our student ambassadors will represent the college by giving tours of the facilities, connecting students to resources and sharing their experiences with others. As a student ambassador, you'll gain leadership experience to add to your resume, practice and polish your interpersonal communication skills and so much more.
Faculty Advisor: Ryan Scholl and Barbara Gager 
Co-Presidents:  Dietrich Wagner and Elias Hinrichsen
---
Kappa Delta Pi (KDP)
Kappa Delta Pi (KDP) is an international honor society for students with high ideals and high academic achievement.  We hold monthly membership meetings and have many active service and outreach programs in area schools and community agencies that members can participate in or lead. We prepare teaching students to become successful leaders through these professional development events, partnerships, and ongoing programs. If you have a cumulative GPA at or above 3.0 and a semester GPA at or above 3.50, are fully admitted to the teacher education program, and have been at UNI for one semester, you should receive an invitation to join by mail and email in the weeks prior to the start of the fall and spring semester.
Faculty Advisor: Becky Hawbaker 
President: Sophia Patchin
---
Movement and Exercise Science Club
The UNI Movement and Exercise Science Club is an organization designed for students wanting to explore a career path in kinesiology and exercise science. We aim to create an environment that merges academics, community volunteering, career exploration, and fun. Our club holds regular meetings, organizes professional development events, and recreation activities.
Faculty Advisor: Kelsey Bourbeau
Co-Presidents: Mary Ann Schmadeke and Katie Dorman
---
Nonprofit Leadership Alliance (NLA)
Calling all students interested in a career in nonprofit! The UNI Nonprofit Leadership Alliance is a student-run organization dedicated to educating, preparing and certifying students to strengthen and lead nonprofit organizations. The UNI NLA is part of a national network of 40 different colleges and universities, as well as countless nonprofit organizations, with this same goal. By joining the NLA, you'll also receive your Certified Nonprofit Professional Credential (CNP). Visit https://uni-nonprofit.org/ for more information.
Faculty Advisor: Kristina Kofoot 
Executive Director: Megan Beaman
---
Orchesis
Orchesis is a UNI dance company of students interested in pursuing the choreography, performance and production of ballet, jazz, modern and tap dance styles. Current and prospective students who would like to join Orchesis must audition and, if accepted, commit to taking dance technique classes twice a week and participating in a 15-minute weekly business meeting. Additionally, there are opportunities for members to get involved in the local community through dance, choreograph routines and/or join the leadership team.
Faculty Advisor: Cindy Herndon
President: Rachel Kuehner
---
Physical Education Teaching Club
The PE Club gives PE teaching majors access to great resources and networking opportunities in the field of physical education. Meetings occur twice a month and the faculty advisor and officers of the club will help facilitate. As a member, you'll pay a $50 annual membership fee and you'll gain access to SHAPE (Society of Health and Physical Educators) America where you can stay up-to-date with industry trends, find a wealth of materials and learn from other PE teaching professionals.
Faculty Advisor: Jim Hall 
President: Stephanie Prather and Tehya Miller 
---
Shine On Inc. at UNI
Help give individuals with and without labeled disabilities opportunities to perform, create and experience the arts together! Shine On, Inc. is an Iowa-based nonprofit organization that has many different branches and sponsors various types of events. At UNI, our focus is pairing UNI students with K-12 children with and without labeled disabilities for weekly dance sessions and different events within the local community. Let's promote an inclusive space where we can all learn from each other and grow together.
Faculty Advisor: David Hernandez-Saca 
President: Lindsay Amundson
---
Sport and Exercise Psychology Club (SPEC)
The Sport and Exercise Psychology Club (SPEC) is for students who are interested in/majoring in sport psychology and want to learn more about the field and get connected. The SPEC hosts monthly meetings that discuss the educational background of sport psychology, how to apply to graduate schools, how to get involved, as well as volunteer opportunities in the Cedar Valley.
Faculty Advisor: Mick Mack 
President: Faith Cox
---
Student Affairs Pre-Professional Association (SAPA)
Students looking to pursue or currently enrolled in the master's degree program in Postsecondary Education: Student Affairs are welcome to join SAPA. SAPA follows its members through the transition into the program, helps monitor their progress throughout the program and prepares them for a successful future career. Students benefit from SAPA because they experience personal and professional growth through collaboration across UNI's campus and beyond.
Faculty Advisor: Robert Chin and Colin Weeks
Executive Leadership: Megan Unger and Lydia Richardson
---
Student Association of Middle Level Educators (SAMLE)
SAMLE is an organization that gathers pre-service teachers on a bi-monthly basis to have discussions, listen to guest speakers and network with others in their field. SAMLE also hosts its very own annual conference that promotes professional development by facilitating leadership activities and inviting professionals to speak on relevant topics in middle level education. Join now and, when you graduate, you'll feel more prepared to transition into your first year of teaching.
Faculty Advisor: Dana Atwood-Blaine
President: Lindsey Pixler
---
Student Athletic Training Organization
Faculty Advisor: Todd Evans 
---
Student Elementary & Early Childhood Association (SEECA)
Get to know your peers and be better prepared to enter the workforce after graduation by joining the UNI Student Elementary & Early Childhood Association (SEECA). Not only will you get to network and listen to guest speakers at the monthly meetings, but you'll also get to participate in other fun volunteer activities (like the annual Trunk-or-Treat event). Don't miss this opportunity to get involved and increase your skills as an educator.
Faculty Advisor: Dr. Dessy Stoycheva
President: Jaley Butler
---
Student Literacy Association (SLA)
Meet other students interested in literacy education and expand your knowledge. That's what the Student Literacy Association (SLA) is all about! As a member, you'll join your peers monthly to hear from knowledgeable, experienced professionals in your field and have discussions on topics related to literacy. You'll also open yourself up to scholarship opportunities and receive a free book at each meeting to build your classroom library.
Faculty Advisor: Sarah VanderZanden 
President: Rebekah Craighton
---
Student Public Health Association (SPHA)
Are you passionate about educating your community about health? The UNI Student Public Health Association is a service-oriented organization with the aim of providing the general public with a greater understanding of public health. This is done through service activities in the community where students engage directly with community members and gain hands-on experience in the field of public health. On top of these events, meetings are every other Monday at 7 p.m.
Faculty Advisor: Disa Cornish 
President: Kennedy Kuta 
---
Supplies on Hand (SOH)
The purpose of Supplies on Hand (SOH) is to provide community members with recycled supplies to express themselves through various forms of art. Students who join SOH will help facilitate these arts and crafts events and also join in the creativity and fun by creating something for themselves, their classrooms, etc. On top of this, pre-service and current teachers will also benefit by gaining access to resources that they will eventually use in their classrooms.
Faculty Advisor: Soh Meacham 
President: Emma Hartz 
---
Therapeutic Recreation (TR) Association
If you're planning on entering the field of therapeutic recreation and looking for opportunities to gain experience outside of the classroom, you've come to the right place. The TR Association gives students real opportunities to apply their knowledge through volunteer opportunities within the community and at organized events. There are monthly meetings, as well as potential involvement in state and national therapeutic recreation organizations which can help enhance learning and connect students with others in the field.
Faculty Advisor: Rodney Dieser 
President: Jaylyn Sharp